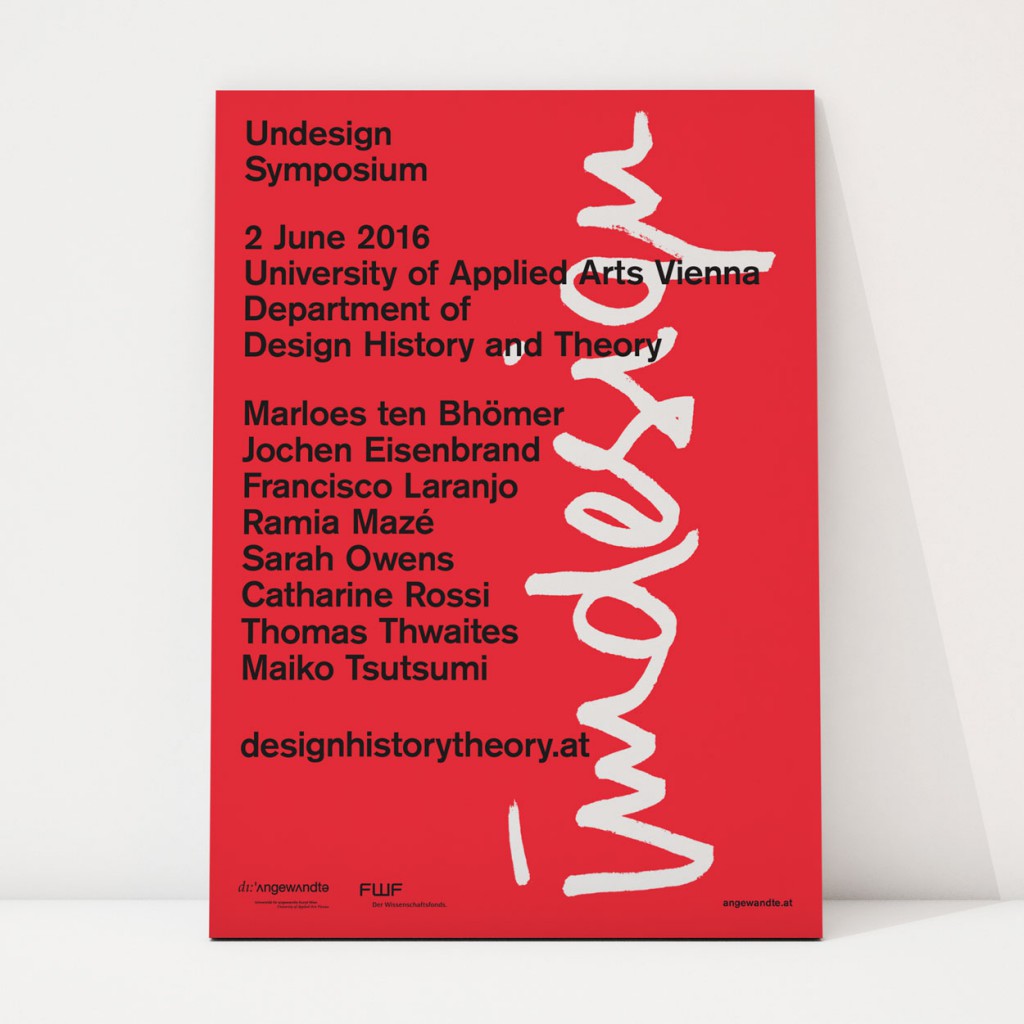 Symposium: Undesign
2 June 2016
University of Applied Arts Vienna
Heiligenkreuzer Hof, Refektorium, Schönlaterngasse 5, 1010 Vienna, Austria
The symposium is convened by Björn Franke for the Department of History and Theory as part of the FWF Research Project "Émigré Design Networks and the Founding of Social Design", led by Alison J. Clarke.
Speakers
Marloes ten Bhömer, Jochen Eisenbrand, Francisco Laranjo, Ramia Mazé, Sarah Owens, Catharine Rossi, Thomas Thwaites, Maiko Tsutsumi
Tickets and Downloads
Introduction
What does it mean when the outcome of a design process is the decision not to produce an object? Is this a design decision? How can designers work outside the narrow constraints of the profession and deal with real world issues? Is design for behaviour change an appropriate tool and what are the limitations of this approach? How might 'undesign' processes be used as a medium through which to investigate a design issue?
This symposium explores new and emergent critical positions in design through the concept of 'undesign'. Led by a panel of international designers and design researchers, the symposium takes the concept of 'undesigning' to mean reducing, simplifying, removing or eliminating design (and complexity). Building on the tradition of critical design, it aims to uncover and examine new functions for contemporary design.
Programme
09.00 Welcome
09.30 Politics of (Non-)Design
Ramia Mazé, Aalto University, FI
10.00 (In)comprehensible (Un)undesign
Thomas Thwaites, Designer, UK
10.30 Coffee Break
11.00 Research as Object
Marloes ten Bhömer, Designer, UK
11.30 How to Display UnDesign
Jochen Eisenbrand, Vitra Design Museum, DE
12.00 Panel Discussion
13.00 Lunch Break
14.30 Undoing Design
Sarah Owens, Zurich University of the Arts, CH
15.00 Undesign and the Politics of Method
Francisco Laranjo, Modes of Criticism, UK
15.30 Coffee Break
16.00 After the Object: Remaking, Unmaking, Fixing and Copying as Critical Strategies in Contemporary Design
Catharine Rossi, Kingston University, UK
16.30 Reconfiguring Practices of Design and Making
Maiko Tsutsumi, Camberwell College of Arts, UK
17.00 Panel Discussion
18.00 Drinks Reception
_
Abstracts + Bios
Marloes ten Bhömer
Designer, UK
Biography
Born in Duiven, the Netherlands, Marloes ten Bhömer studied product design at ArtEZ the Netherlands, before receiving an MA in design at the Royal College of Art in London. She is Senior Research Fellow at Kingston University and held a Guest Professorship in Fashion at the Universität der Künste Berlin 2012–2015. Her work consistently aims to challenge generic typologies of women's shoes through experiments with non-traditional technologies and material techniques. By reinventing the design method and process by which footwear is made, the resulting shoes serve as unique examples of new aesthetic and structural possibilities, while also serving to criticise the conventional status of women's shoes as cultural objects.
Research as Object
A Measurable Factor Sets the Conditions of its Operation rethinks the ways in which shoes are designed by shirking traditional approaches, instead employing a method based on the study of structural parameters – derived from anatomical and kinematic studies – required to support a high-heeled foot while in motion. The consequences of my research methodology are two-fold: By considering 'the woman in motion' as an engineering problem, I simultaneously expose the role heels play in the cultural construction of female identity while also considering the link between production methods, object typology and aesthetics. By purposefully displaying the project's research journey rather than the final outcome(s), I am able to expand the modes of dissemination within my own practice, while also staking a new position for the field of footwear beyond the traditional (and disparate) realms of commercial fashion and academic scholarship.
_
Jochen Eisenbrand
Vitra Design Museum, DE
Biography
Jochen Eisenbrand is chief curator at the Vitra Design Museum. Working at the Vitra Design Museum since 1998, Eisenbrand curated the exhibitions Airworld: Design and Architecture for Air Travel, Hidden Heroes: The Genius of Everyday Things as well as major retrospectives on George Nelson, Louis Kahn (with Stanislaus von Moos), Alvar Aalto and Alexander Girard. His exhibitions have been shown not only in Weil am Rhein but also at further venues in Europe, the USA and in Asia. From 2007 until 2010 he served as a member of the acquisitions committee of FRAC centre in Orléans. Having earned a Master degree in Cultural Studies from the University of Lüneburg (1998), Eisenbrand received his PhD in design history at the University of Wuppertal in 2014. His dissertation George Nelson: Ein Designer im Kalten Krieg was published by Park Books in Zurich.
How to Display UnDesign
Design exhibitions traditionally rely on the display of auratic objects. In light of the shift towards a more comprehensive and non-materialistic understanding of design – including critical and social design – institutions that exhibit design need to look beyond the celebration of the final design product. Drawing from examples of Vitra Design Museums's recent exhibition program and embedding these into a wider context of current exhibition practice, this talk examines the possibilities and challenges of a curatorial approach that reflects the social and critical potential of design and places an emphasis on ideas, process and performance rather than just things.
_
Francisco Laranjo
Modes of Criticism, UK
Biography
Francisco Laranjo is a graphic designer based in London (UK) and Porto (Portugal). His writings have been published on Design Observer, Eye, Grafik, Público, among others. He has been a visiting and guest lecturer at the Sandberg Institute (NL), Royal College of Art, Central Saint Martins, London College of Communication, Kingston University, University of Westminster (UK) and ESAD (Portugal). He is the editor of the design criticism journal Modes of Criticism.
Undesign and the Politics of Method
Calls for designers to not design are not new. Within graphic design discourse, Jeffery Keedy provocatively suggests in Hysteria™ (2001) that "designers can make their biggest social and political impact by not designing." This points to design's predominant role in feeding capitalism, but also reveals the intrinsic entanglement of personal, disciplinary, private and public interest in which graphic design operates. It highlights a recurrent delusional tradition that insists in approaching design as a profession instead of discipline, and a focus on technology-driven solutions that depoliticise the design process. By reflecting on a series of experiments developed at the Royal College of Art, Sandberg Institute and University of Westminster, it is argued that emergent and contested terms such as critical design, antidesign or undesign, constitute key opportunities to repoliticise design.
_
Ramia Mazé
Aalto University, FI
Biography
Ramia Mazé specializes in critical and participatory approaches to design. Her current research in projects such as 'Utopia Now Here' and in the co-edited book Feminist Futures develops critical practices of design in contexts of socio-ecological development. Previous research includes socially- and politically-engaged design ('DESIGN ACT' project and book) and critical practices of sustainable design ('Static!' and 'Switch!' projects). She is Professor of New Frontiers in Design at Aalto University, Finland, where she's currently teaching an MA course 'Design for Government' and in PhD courses on 'research through practice'. Previously in Sweden, she worked at Konstfack College of Arts Crafts and Design, at KTH Royal Institute of Technology and at the Interactive Institute. A designer and architect by training, she has a PhD in interaction design.
Politics of (Non-)Design
Political implications are often absent in design. Even the way we define and differentiate design can be understood as political. In this talk, I will revisit Diana Agrest's 1974 discussion of 'Design versus Non-Design,' in which she refuted claims of architecture's autonomy and neutrality premised on its specific and distinct concerns. The notion of 'non-design' problematizes how, when, where, by and for whom disciplines are differentiated. The politics of disciplinary in- and exclusion is enacted through our educational curricula, museum archival categories, competition criteria, professional organizations, job recruitment ads, doctoral study requirements, and 'key performance indicators' in universities. Through examples of 'critical' design and 'research through practice,' I explore some contemporary politics of design institutionalization.
_
Sarah Owens
Zurich University of the Arts, CH
Biography
Sarah Owens is a graphic designer, design historian and design sociologist who focuses on the practice and mediation of graphic communication, as well as the social and anthropological aspects of design. She is Professor for Visual Communication at Zurich University of the Arts, and directs MA studies and research in this area. Sarah is a graduate of the University of Reading, the Royal College of Art in London, the University of Applied Sciences Augsburg and in 2009, was a fellow at the Akademie Schloss Solitude in Stuttgart.
Undoing Design
'Undoing design' considers the notion of undesign by examining the strategy of suspending or unlearning one's design knowledge or approach. This may, for instance, be the case when a designer decides to abandon professional criteria, methods or goals in order to pursue alternative paths. In the short term, this strategy may lead to new aesthetics, in the long term, to analysis and critique. This contribution goes further by asking what happens if a designer relinquishes her knowledge and experience of designing, and instead privileges an alternative (e.g. non-professional) understanding of design. Would the designer allow herself to become fully involved in this non-legitimised knowledge? How difficult is it to override internalised principles, to disregard discourse, to disobey habitus? Would the designer allow the 'undoing' of her designerly view of the world?
_
Catharine Rossi
Kingston University, UK
Biography
Catharine Rossi is a design historian based at Kingston University, London. She is the author of Crafting Design in Italy: From Post-War to Postmodernism (MUP, 2015) and co-editor of The Italian Avant-Garde: 1968–75 (Sternberg Press, 2013) with Alex Coles. She was the co-curator of Radical Disco: Architecture and Nightlife in Italy, 1965–1975 with Sumitra Upham at the ICA (December 2015 – January 2016) and curated the installation Space Electronic: Then and Now at the 2014 Venice Architecture Biennale. She has written for a number of publications, academic journals and magazines including The Journal of Design History, The Journal of Modern Craft, Crafts, Disegno and Domus. Current projects include investigating the maker movement in China and considering what Robinson Crusoe can do for design and craft.
After the Object: Remaking, Unmaking, Fixing and Copying as Critical Strategies in Contemporary Design
Design is in an identity crisis; near invisible in its pervasiveness and diversification and yet increasingly visible in its culpability in an unsustainable, unequal world. Recently this has seen several designers engaging with strategies that counteract or depart from designing new artefacts to focus on the existing material world, and doing so in ways that provide critical commentary on, or present socially engaged alternatives to, the designed status quo. This is evident in fixing-based projects such as Fixperts and Paolo Goldstein's Repair is Beautiful series, materials such as Sugru and Formcard, whose authors are designers designing materials for remaking and repair rather than designing anew, and the idea of design as a process of unmaking. This paper considers these approaches alongside the challenge to ideas of design as an activity of creation – the widespread copying in a digitally permeated, global design culture.
_
Thomas Thwaites
Designer, UK
Biography
Thomas Thwaites is a designer who 'does projects.' His works variously explore economic, philosophical or techno-social across many subjects; biology, economics, philosophy, materials science, and are exhibited frequently and internationally. The Toaster Project has been acquired by the Victoria & Albert Museum for their permanent collection. A narrative book explaining the project was published by Princeton Architectural Press in 2010 to critical acclaim, and has now been translated in to Korean and Japanese editions. His second book, written about his project to take a holiday from being human by becoming a goat, will be published in Spring 2016.
(In)comprehensible (Un)undesign
A stated aim of critical design is to create debate. This is pitched as a kind of service to society, a useful function, whose utility is something to do with envisaging alternatives to the status quo. However, to approach this goal, a critical design project needs to not only be intriguing, but also comprehensible for the particular group it's aimed at. However, a project that is comprehensible can feel too pedagogic, and be unsatisfying as a piece of work for both audience and designer. I will talk about a couple of my projects where I feel I've got the balance right (and mention one or two where I've got the balance wrong).
_
Maiko Tsutsumi
Camberwell College of Arts, UK
Biography
Maiko Tsutsumi is pathway leader for MA Designer Maker, and Postgraduate Programme Director at Camberwell College of Arts, University of the Arts London. She studied Japanese lacquer work and woodcraft, and apprenticed to furniture makers in Kyoto before moving to London to study furniture design at the Royal College of Art. While working at Tomoko Azumi's t.n.a. design studio, she completed a practice based PhD, The Poetics of Everyday Objects at Kingston University in 2007. Maiko has curated exhibitions including: Thingness (2011), The Laundry Room (2012), and The Department of Repair (2015), for which she edited accompanying publications. Her research interests include: materiality, tacit and embedded knowledge in making/design practices. She is currently working on a project that explores languages of/for making.
Reconfiguring Practices of Design and Making
This paper will examine the shift in the education of designers and makers – from viewing their practice as a means to provide solutions towards realising their practices as a way to investigate and understand the socio-cultural conditions of our time. It will discuss original research conducted on thingness and working knowledge that has been undertaken in order to enable students to gain a broader perspective on the roles and possibilities of their discipline.
_